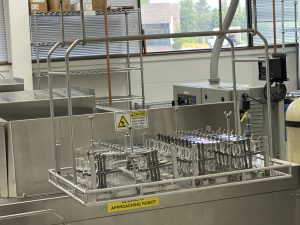 Protective Hardcoating
North American Coating Laboratories (NACL) is one of only a few organizations in the world that offer both vacuum and dip-applied coating solutions in one facility. NACL's dip-applied polysiloxane is a conformal, optically matched, abrasion resistant coating that also significantly reduces damage to polymers from chemical attack. Our polysiloxane protects your plastics from exposure to bug spray, sunscreen, and many other common solvents including alcohol and methanol. This protective application has proven to be especially useful for high touch surfaces at theme parks, airplane cabins, and in automotive displays.
NACL's specially formulated thermally cured polysiloxane allows for conformal coating of polymer optics with unique geometries. By controlling the processing speed, we can optimize the hardcoat film for the highest level of clarity without having to sacrifice the durability and chemical resistance of the coating. Additionally, our polysiloxane hardcoat minimizes birefringence or the "rainbow effect" sometimes seen on spray or flow applied coatings.
The coating process at NACL utilizes the latest and best in Class 100 clean, robotically driven processing in our state-of-the-art coating system. With our nearly 30 years of hardcoating process development experience, NACL can assist with virtually any polymer hardcoating application.
Ready for more information? NACL is Here to Help! Be sure to follow us on all social media platforms and check out our blog for the latest in optical coating news. Our dedicated team of coating experts have over 90 years of cumulative experience and we look forward to connecting with you to discuss your application!
Coating Features
Scratch-Resistant Hardcoating
Hydrophobic Over-Coating
Chemical/Fuel Resistant Hardcoating
Technical Information
Machine outage? Backlogged orders? North American Coating Laboratories Can Help!
Let's discuss how we can assist with the everyday challenges that arise in the day-to-day management of your lab.