650nm Shortwave Pass Filter on PMMA (Acrylic)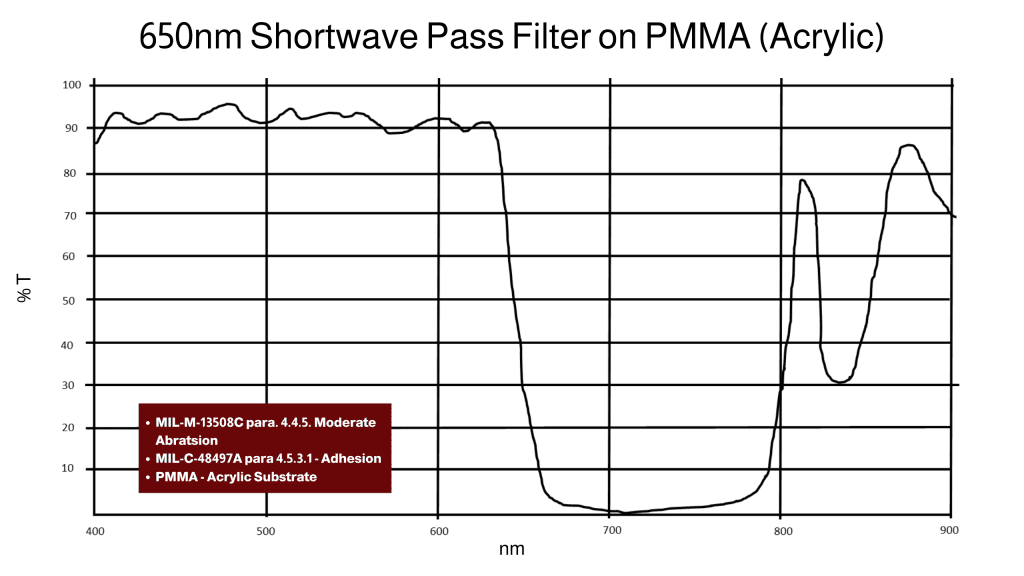 MIL-M-13508C, para. 4.4.5. – Moderate Abrasion
MIL-C-48497A,para. 4.5.3.1 – Adhesion
PMMA- Acrylic Substrate
Custom Designed Optical Filters
North American Coating Laboratories designs optical thin film filter coatings for a variety of applications. Our filter coatings are created by layering specific materials onto a substrate. When these layers of thin film material adhere to the substrate they have the capability of changing the direction of light as it passes through the lens. Our thin film design experts are able to create optical filters that perform at various wavelengths to meet the specifications of any project. Optical filter coatings are used in a variety of applications including remote sensing, astronomy, telecommunications, miscroscopy, and more.
For smaller angles of incidence (AOI), bandpass, notch, and edge filters are used and designed to enhance the performance of an optical substrate. For larger AOI (45⁰ and higher), dichroic filers are used in either bandpass, notch or edge configurations. If your application requires more than one area of light transmission, a polychroic filter may be appropriate.
Whether you are looking at the UV or IR end of the spectrum, NACL and it's design experts are able to create the correct optical filter for your application. Based on specifications, NACL can create filters that allow light to be reflected, absorbed, or transmitted through at specific wavelengths. Below is a sample of one of our custom filters on acrylic substrate.
Do you have a unique application? Does your project have difficult specifications? Connect with us and we can discuss your program in more detail.
Machine outage? Backlogged orders? North American Coating Laboratories Can Help!
Let's discuss how we can assist with the everyday challenges that arise in the day-to-day management of your lab.